Keeping Clients' Cargo Moving Smoothly for More than 100 Years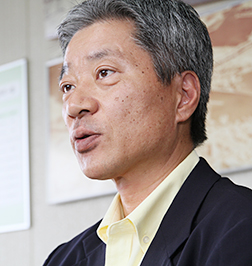 Okigumi has a proud history dating back to 1892. Originally founded as a cargo handler and transporter at Sakai-kou (Sakai Port) with a focus on the coal industry, we also expanded into the truck transportation business. We have weathered turbulence on numerous occasions, including economic conditions and the impact of mandatory corporate ownership controls during the war. However, we have always risen to these challenges and, as a result, our company has grown and expanded successfully over the years.
More recently, we have also moved into warehousing, industrial waste collection and transportation, and correspondence delivery services. However, in contrast to those movements, one thing has been the same from our 19th century origins to the present day: Our business has always been built on strong bonds of trust with our customers.
To that end, we have continually expanded our range of services and now offer a comprehensive line-up of logistics solutions, including cargo handling and shipping, road haulage, warehousing, specified correspondence delivery services, bonded warehouses, and customs brokerage. We also have a private wharf equipped with facilities for loading and unloading, and are experts in handling unbagged and bulk cargo.
Our key strengths include our ability to handle dangerous goods in specialized warehouses, our bonded storage capabilities, and our expertise in handling containers for export and import.
Accreditations
Granted "Sakai Wazashu" certification for industry excellence by the Sakai Chamber of Commerce as one of the few port cargo companies able to handle bulk cargo. We are also one of the few companies approved to operate correspondence delivery services in Japan.
"G mark" certification from the Ministry of Land, Infrastructure, Transport and Tourism for excellence in safety and maintaining the highest standards of safety awareness.
Certified by the Foundation for Promoting Personal Mobility and Ecological Transportation (affiliated with MLIT) for our "green management" credentials.
As part of our commitment to providing customers peace of mind through steadfast solutions, we are inspired by our corporate ethos—"Combining tradition and innovation"—to leverage state-of-the-art technologies and a wealth of hard-won experience and expertise to offer total logistics services underpinned by mutual trust and friendly service.